Many restaurant managers prefer to hire employees with prior experience assuming that they won't need much training. However, every restaurant is unique and no two restaurants operate the same. This is why it's important for the right training to be delivered to every restaurant employee for a smooth transition to the new workplace.
Here are 11 things to have in mind:
1. Don't skip Orientation Training
Every new employee needs to be welcomed with decent orientation training. Give clear instructions on your restaurant menu, your average guest, any traditions in between staff you might have, and the manner they are expected to act. Explain everything accordingly, from restaurant facts (cuisine type, most popular menu item, busy times, head chef information) to operation instructions (roles and responsibilities of staff, the part of staff they will have to work with, how the menu is selected, etc.
2. Get them accustomed to the
restaurant LMS
you use
The best way to teach is by showing, so the easiest way to train restaurant employees is by showing them staff training videos that you've previously made. As for the platform, LMSs are the most reliant, cheap, and easy choice to use. Using visual training modules in your LMS as a resource for your restaurant staff is an efficient option which saves you time and money. Kiwi LMS also allows you to test your employees and check their course progress and quiz results.
3. Have regular evaluations and pre-shift meetings
Transparent communication among colleagues is always important, but in the restaurant industry, it's imperative. All staff members, including chefs, servers, bussers, and hostesses need to have healthy communication since their collaboration makes the restaurant. To make sure that all staff members are on the same page, regular evaluations by the managers and daily pre-shift meetings can help.
4. Train them on Soft Skills
Need we talk more about the importance of soft skills in the workplace?
In a service industry such as the restaurant, interpersonal interactions are more frequent, which means soft skills are essential. An analysis found out that the need for proper soft skills is most common among workers in the restaurant, retail, and human resources industries. They enable them to interact effectively and harmoniously with co-workers in the workplace and customers, and this includes knowing what to say and how to act.
Business etiquette, ethics, adaptability, time management; there are countless soft skills your employees could get use of. Whether you conduct this training in-house or prepare a course in your restaurant LMS for your employees to finish, soft skill training is not to be neglected.
5. Train them for responsible alcohol service
It's mandatory by law for restaurants and bars with liquor licenses to have their bartenders be alcohol-safety certified. So, keep your business safe and provide training to employees in responsible alcohol service, detection of fake identification, public safety expectations and so on. 
6. Give safety guidelines
Safety should always be a primary concern in all aspects of service training. From instructing them where things are placed after using them to what to do when there's an incident in the kitchen or bar, let them know in the beginning either verbally or as part of a Safety Guidelines course on your LMS.
7. Emphasize serving all guests with the same respect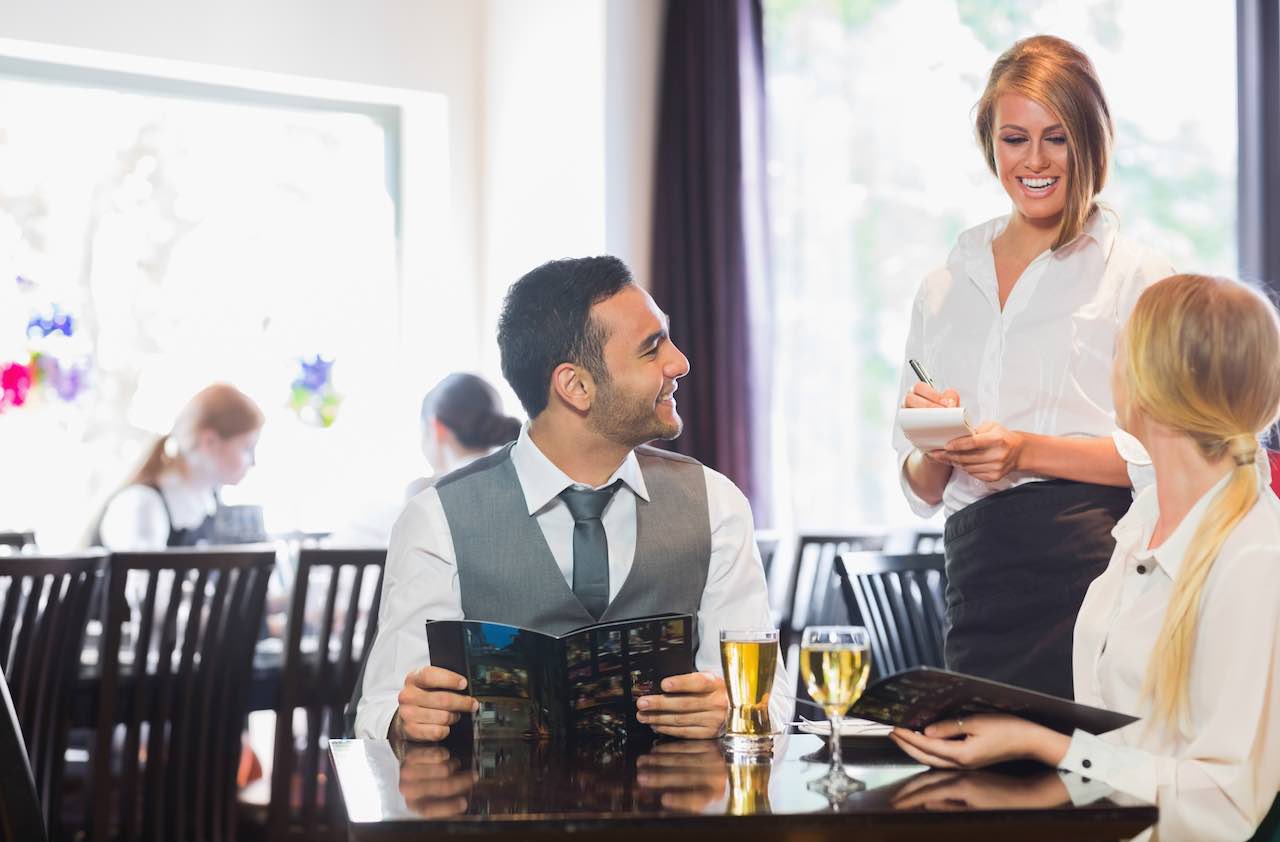 The last thing you want is bad rep to your entire restaurant because a server was rude to some patrons. Train them to not change the way they treat customers based on the way they dress, their race, or their ethnicity. If the servers are trained to serve all guests with the same respect, it helps the restaurant and also the servers (from tips).
8. Pay special attention when training for fine dining service
Fine dining requires fine serving. In such restaurants, your training requires more details than for others. Restaurant employees need to be able to properly pronounce your menu, explain it to customers, and give suggestions.
9. Avoid micromanaging while training your new hires
Don't be too rigid in your instruction in the first days or else you'll overwhelm your new hire. Micromanaging might not be the best idea at first. Rather prepare an outline with basic tasks first, building to more difficult items at the end of the week work.
10. Train your staff on server etiquette
Etiquette is a code of conduct for servers so your staff should be properly trained if you want them to be competent and respectful in serving your customers. But not every restaurant prefers the same etiquette by its waiters. It can depend on the theme or type of restaurant you run. A casual modern restaurant does not expect its waiters to be too serious in manner as a fine-dining one. Such restaurants would probably want friendly, joyous faces to serve their customers. Therefore, certain behaviors that are accepted in one may be frowned upon in the other.
11. Incorporate restaurant training games
Gamification has been an eLearning trend in recent years, but if you thought that it can't be applied in the restaurant industry, think again. 
Restaurant training games are great to provide a fun yet professional instruction to new hires and also improve the service skills of senior staff members. Gamifying their exercises helps keep them interested and attentive and makes it easier for them to remember as well. 
We hope you consider these 11 expert tips the next time you create a training plan for your restaurant staff! Let us know if you have others!