Whether a company has hired new employees, launched a new product, or simply wants to keep their employees safe, employee training programs are needed all the time. The right training enables employees to perform well on their jobs at all times, and always be safe in doing so.
Employee training and development benefit both the employee and the employer, so it should be taken by companies as a business investment because its eventual costs eventually pay off.
What the organization gains from employee training:
Profit and growth
Good reputation
Deeper skill succession pipelines
Reduced turnover rate
Skilled workers
What an employee gains from employee training
Career advancement
Self-development
Better finances
Enhanced productivity
1. First things first: Orientation Training

Orientation training is the one a new hire gets when they first join the company. It is the most common type of employee training because it's necessary for a smooth transition. It mainly consists of welcoming the new employees and introducing them to the company.
The HR department usually handles orientation trainings and the topics they focus on are:
Company's values and vision
Company culture
Leadership team intro
New-hire paperwork
Administrative procedures (computer logins, email setups, etc.)
Key corporate policies
2. Compliance Training: Safety over all
Beside Orientation training, there's Compliance training – another type of training which may be needed in some departments for more specific training.
Compliance training educates employees on the laws and regulations of their job function or industry. These laws aim to maintain the safety of the workplace and to prevent poor conduct from employees. A good compliance training program helps to minimize risk, provide a better environment for employees to work in, and maintain a good reputation.
Compliance training examples
Anti-Harassment Training
Workplace Safety (OSHA)
Workplace Violence
Workplace Substance Abuse
Information Security Training (HIPPA)
HR Law
ISO (International Organization for Standardization)
Diversity Training
Benefits of compliance training
Safer workplace
Preservation of business reputation
Minimized risk of legal action
Reduced absenteeism
3. Onboarding Training: No, it's not the same as Orientation training
Onboarding Training is often thought to be part of Orientation Training (perhaps because they both start with an "O"?). But they're not to be confused with one another since onboarding is a longer, ongoing process (up to one full year), unlike the formerly mentioned.
Onboarding is the process by which new employees obtain the skills and behaviors to become effective contributors in their new workplace as fast as possible.
Benefits of onboarding training
Employees find ways to stay engaged and productive at work.
Employees are assimilated into the culture and the team.
New employees are brought up to speed much quicker than if they didn't have this training.
A lot of leadership time is freed up because most answers to questions were available within the training.
4. Managerial Training: When it's time for a promotion, one has to have the right skills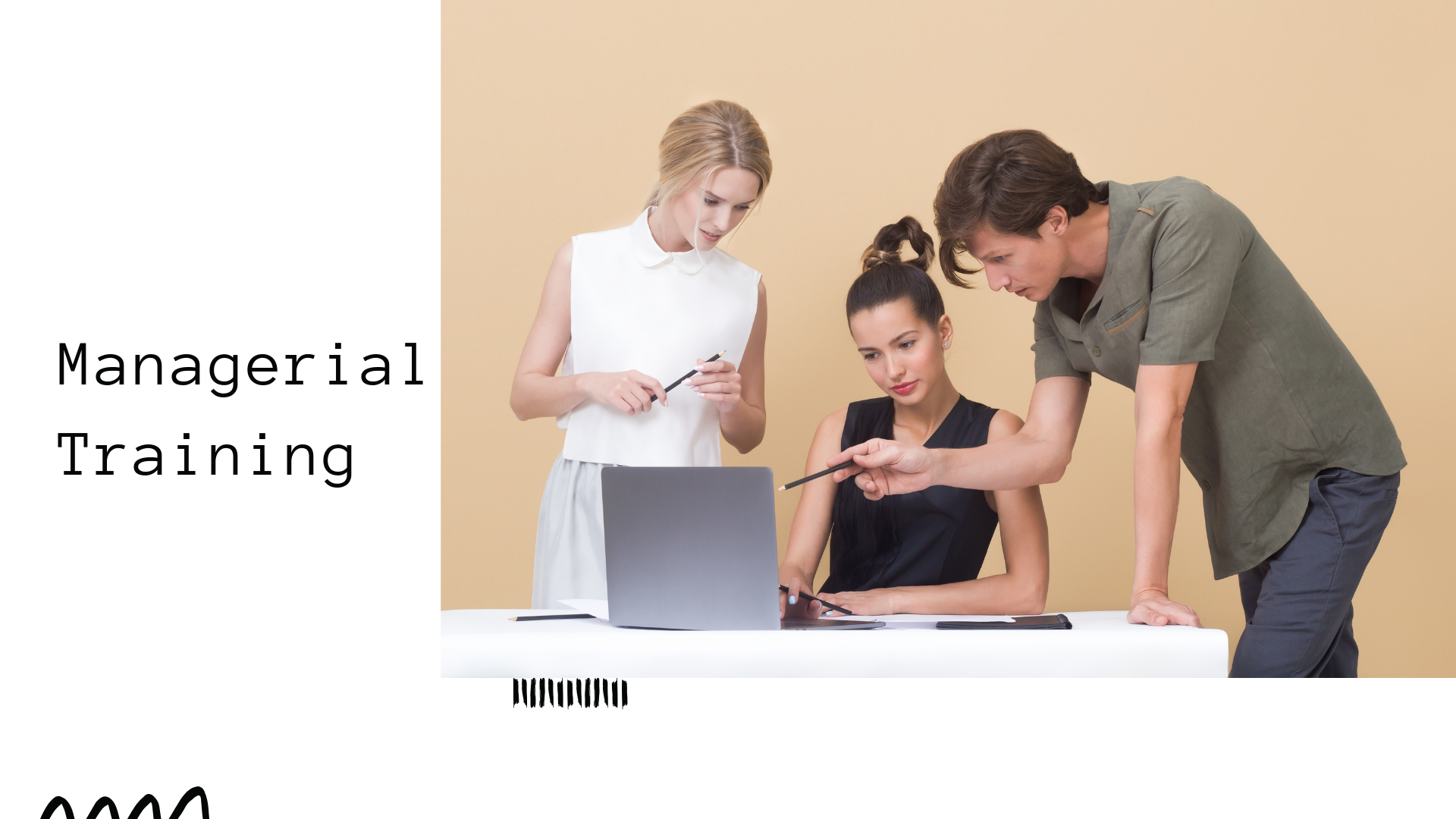 Picture: Icons8
When an employee spends a considerable period of time in a position, they will either ask for promotion themselves, or they will be considered for a better managerial position by the leading board. For such cases, organizations have managerial training.
An employee might be great at what they do, but there are some specific skills to obtain before becoming a manager that only this training offers. The skills required in terms of business management get enhanced only during managerial training.
Benefits of managerial training
The employees mainly get an insight into aspects such:
Proper and timely delegation
Ways to maintain motivation in your team
How to provide proper feedback or coaching
5. Leadership Skills Training: Leaders helping others be leaders
Leadership skills training gives managers a possibility to improve their ability to inspire and motivate employees and teams to achieve outstanding business results. This program not only inspires the managers to focus on their becoming better, faster and smarter but also to find ways to make everyone on their team better, faster and smarter. This is the mindset that good leadership training provokes.
Benefits of Leadership Skills Training
You raise future team leaders for the business organization.
It increases employee engagement.
It improves your leadership styles.
You learn better ways of influencing people.
You build a strong and united team.
You gain more self-confidence in leading a team.
You are able to interact with other leaders.
You are able to effectively implement leadership strategies.
6. Technical Training
No matter what technical level your employees are at, there is always room for improvement.
Technical Training teaches the skills needed to design, develop, implement, maintain, support or operate a particular technology or related application, product or service.
Technical training is the main way your employees will know how to technically do their jobs right, so needless to say, it is quite crucial. With all the technological developments every day, employees need to stay up-to-date with the latest ones, and that is best done by training.
Technical skills development programs are usually included in the onboard training program, but they can also be delivered to existing employees who can use a little more development in this field. There is always something new to learn.
Technical training benefits
Employees get to learn about technical skills such as:
data analysis
content writing
coding
social media management
programming, etc.
7. Soft skills development training
Source: Youtube
We've talked about soft skills in the workplace before, but here we are again because we genuinely believe they are important for career success in today's age. Soft skills are essential for a business, and although they may be called soft, they are actually hard to develop. But since research has found that 75% of long-term job success comes down to people skills and not technical knowledge, you can't afford to lose such productivity out of your employees.
Service industries (such as the restaurant industry) are where soft skills are most needed, which means more importance is given to soft skills as opposed to technical jobs. They enable employees to interact effectively and harmoniously with co-workers in the workplace and customers.
Soft skills you can pass on to your employees are:
Ownership
Conflict resolution
Emotional Intelligence
Time management
Ethics
Adaptability
Business Etiquette
Commitment
Whether you conduct this training in-house or prepare a course in your restaurant LMS for your employees to finish, soft skill training is not to be neglected.
8. Product Specific Training – PST
As the name suggests, Product Specific Training is a training program about a specific product. PST incorporates information about the products or services the organization offers.
Therefore, this training is a must for companies that sell any kind of product/service. For new employees, it is usually conducted in the first week after the orientation session, while existing employees can be trained on every product upon its launch or to provide them a refresher on a service. The training enables employees to fully understand the product or service so that they can be useful to the customers.
A lot of content needs to be prepared for this type of training. The type of this content depends a lot on which learning strategy you choose to follow; it can be fully offline, face-to-face learning, online learning, or blended learning. For the latter two you'll need to develop an online course, and learning management systems (LMSs) work well on this front.
9. Health, Safety and Security Training – HSSE
It entails such important human life assets, however, Health, Safety and Security Training is not given by many organizations. They take measures to keep their data/information secured, but neglect keeping their employees safe.
These training sessions can be held in-house, but organizations usually hire external practitioners with more adequate knowledge to train their employees.
Benefits of HSSE training
HSSE training educates employees on keeping themselves safe from workplace injuries or work-related accidents. It's particularly crucial in more danger-prone industries, such as factories involved in the production of the hazardous substance. However, in low-risk organizations where not much physical work is done, the training may include preparing employees in case of fire or earthquake.
Ergonomics – or the study of people's efficiency in their working environment – is also part of this training. This one is crucial because it helps employees in staying healthy and dealing as best as possible with the fact that they have to sit in front of a computer for long hours.
10. Mandatory training
Depending on the industry the company operates in, there are certain regulations the employees need to make sure to follow. As such, there are mandatory trainings they must take. For example, restaurants and bars with liquor licenses need their bartenders to be alcohol-safety certified. Also, a few state laws have made it mandatory for public and private companies to deliver sexual harassment trainings to employees.
These trainings are often provided by governments themselves, but it's they usually exist online in the form of slides and videos.
10.1. Food safety training
Food handlers are required by law to make sure that food is safe for human consumption, and as such, food businesses have to ensure any staff who handle food are supervised properly and receive food hygiene training.
This can most easily and effectively be done online, particularly by mobile learning. Mobile training increases participation because it enables your employees to learn from anywhere at their convenience, whether they're at work or at home. A restaurant LMS is perfect for this. It allows you to create a course and simply make it available to your employees.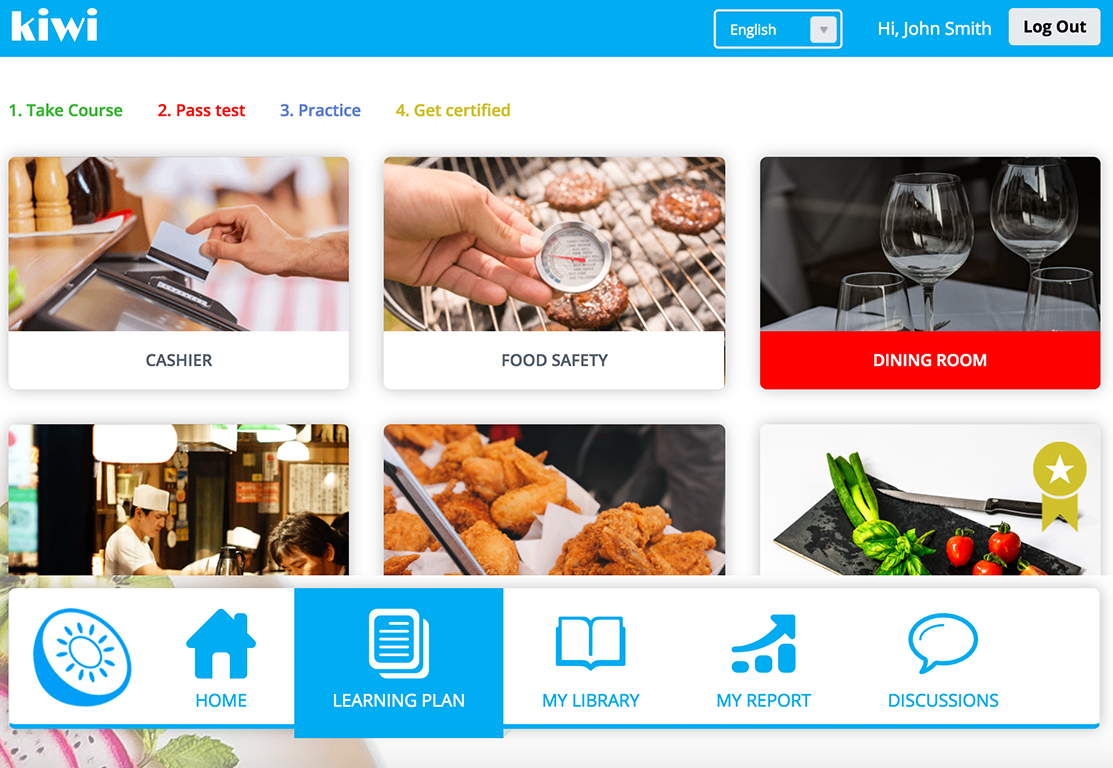 Centered: A course on Food Safety in Kiwi LMS
To sum up
Employee training in all its forms is not to be neglected. There is a multitude of training programs, all of them specific to different aspects. Their benefits are far too great to not make the investment of training your employees in being the best they can be, and contribute to the company the most they can.
Not only does employee training develop the individuals' skills but it also helps increase the company's growth rate. Therefore, business development starts with employee development.